Reunion Dates
| | | |
| --- | --- | --- |
| | Saturday, October 14, 2023 | |
| 7:00 AM | Donuts and Coffee | Main Floor Lounge |
| 7:30 AM | Class Registration | Office |
| 8:00 AM | Ceremonial Opening – All Bodies | Large Lodge Room |
| 8:30 AM | 4th Degree: Builder | Upstairs Lounge |
| 8:45 AM | Discussion of the 4th Degree – Class Members Only | Discussion Area |
| 9:45 AM | 5th Degree: Perfect Master | Auditorium |
| 10:15 AM | Discussion of the 5th Degree – Class Members Only | Discussion Area |
| 11:00 AM | Lunch | Small Dining Room |
| 12:00 PM | 13th Degree: Master of the Ninth Arch | Auditorium |
| 12:30 PM | Discussion of the 13th Degree – Class Members Only | Discussion Area |
| 1:15 PM | 14th Degree: Grand Elect Mason | Auditorium |
| 2:00 PM | Discussion of the 14th Degree – Class Members Only | Discussion Area |
| 3:00 PM | 18th Degree: Knight of the Rose Croix | Auditorium |
| 3:45 PM | Discussion of the 18th Degree – Class Members Only | Discussion Area |
| 4:30 PM | Reception | Small Dining Room |
| | | |
| | Saturday, October 28, 2023 | |
| 7:00 AM | Donuts and Coffee | Main Floor Lounge |
| 7:30 AM | Class Assembly | Large Lodge Room |
| 7:30 AM | Presentation by Directors of the Work | Large Lodge Room |
| 8:00 AM | 15th Degree: Knight of the East | Auditorium |
| 8:30 AM | Discussion of the 15th Degree – Class Members Only | Discussion Area |
| 9:15 AM | Class Picture | Auditorium |
| 9:45 AM | 20th Degree: Master ad Vitam | Auditorium |
| 10:45 AM | Discussion of the 20th Degree – Class Members Only | Discussion Area |
| 11:30 AM | Lunch | Small Dining Room |
| 12:30 PM | 28th Degree: Knight of the Sun | Auditorium |
| 1:15 PM | Discussion of the 28th Degree – Class Members Only | Discussion Area |
| 2:15 PM | 32nd Degree: Sublime Prince of the Royal Secret | Auditorium |
| 3:00 PM | Discussion of the 32nd Degree – Class Members Only | Discussion Area |
| 3:45 PM | Installation of Officers | Auditorium |
| 4:30 PM | Reception | Small Dining Room |
| 5:30 PM | Banquet | Large Dining Room |
**************************************************************************************************
Ladies Program – October 28, 2023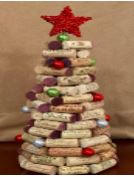 Come and enjoy the day with other Ladies at the Masonic Temple.  All ladies are invited for the entire day or any part of the day. 
8:00 – 9:00  
Meet and greet in the 3rd floor lounge of the Masonic Temple.  There will be light refreshments available.

 
9:00 – 11:30 
Get ready for Christmas by making a tree out of wine corks! You can personalize it any way you like with an assortment of decorations. I will provide the hot glue and decorations.

 

If you have a hot glue gun and would like to bring it that would be great.  I do have several glue guns, but not enough for everyone to have one. 

 

Also,

if you have corks laying around that you would like to put to good

use,

please

bring them.

 
(The more corks we have the bigger the tree you can make.) 
11:30 – 12:30  
Lunch

with the men in the small dining room downstairs.

 
12:30 – 3:00   
 V

arious activities will be available to everyone while socializing and enjoying the company of other ladies.

 
 *All times are approximate.  
Please come dressed casually.  There will be time to change before the banquet's social hour. 
There will be no cost for the day's activities and lunch.  Please reply if you are attending with your banquet reservation to make sure we have enough hot glue sticks. 
Any questions feel free to contact me. 
Gail Abernathy 715-523-1174
**************************************************************************************************
2023 Fall Reunion banquet
In Honor of the Illustrious Frank Struble, 33° PGM Class
Main Ballroom – October 28, 2023–5:30 PM
Historic Eau Claire Temple of Freemasonry
Catered By Wissota Lodge catering
The Banquet honoring our new members and their Ladies and recognizing the Illustrious Frank Struble, 33° PGM, will start promptly at 5:30 P.M. in the Historic Eau Claire Temple of Freemasonry Main Ballroom. Wissota Lodge Catering (Jack Schulte) has provided fine dining in the Eau Claire area for years and will be catering the Fall Banquet.
The Buffet Dinner will feature:
Harvest Mixed Green Salad with Cranberry Vinegarette with Warm Dinner Rolls w/butter.

Candied Baby Carrots

Red Skin Mashed Potatoes

Country style meatloaf with a mushroom gravy

Chicken breast champagne
Coffee or Milk

We will again be having our open dessert table(s) featuring our Fraternities best desserts.

We encourage you to bring a special dessert for us to try.
All this for $28.00
Child Plates (under 12 YO) available for $14.00
Tickets must be purchased by Saturday, October 21 2023. No Tickets Will Be Sold At The Door.
You can reserve either at the office or on Eventbrite, however taxes will be charged in addition to the service fee for those utilizing Eventbrite.
Those having questions please contact the Valley Secretary at 715-832-7759.
Candidates & their Lady do not need to purchase tickets, however must have meal reservations in by October 21 , 2023.
Mail With Payment To:
Eau Claire Scottish Rite
P.O. Box 345
Eau Claire, WI 54702
NAME: _________________________________________________
ADDRESS: _________________________________________________
_________________________________________________
Cost

Number of Meals

Total

Adult $28.00/ea

$

Child $14.00/ea

$

Total

$